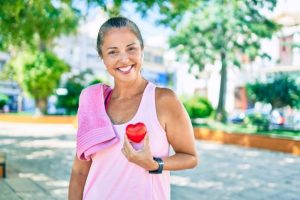 Unfortunately, the importance of oral health in Colorado Springs is often minimized. In reality, though, what happens in your mouth plays a huge role in your overall wellness. This blog post discusses some serious conditions that can result from poor oral health. It also touches on how you can protect yourself.
Cardiovascular Disease
Gum disease, an infection in the pink tissue surrounding the teeth, is a significant risk factor for heart conditions, including atherosclerosis, high blood pressure, and more. Gum disease can allow bacteria to sneak into the bloodstream and interfere with your cardiovascular wellness.
Respiratory Infections
Bacteria that cause infections in the mouth can easily be breathed in, resulting in respiratory problems. In fact, research has shown that individuals with severe gum disease are more likely to be hospitalized for severe COVID-19 than people who have good oral health.
Type 2 Diabetes
Gum disease can make it more difficult to manage type 2 diabetes. Unfortunately, this is a two-way street. Type 2 diabetes can also interfere with your body's ability to fight gum disease.
Kidney Disease
One study found that individuals with severe gum disease were 4.2 times more likely to develop chronic kidney disease. The study focused primarily on black people, but a similar association is possible in other races as well.
Pregnancy Complications
Due to the hormonal fluctuations associated with pregnancy, expecting women are at a higher risk of developing gum disease than the general population. Even more concerning is the fact that gum disease is associated with an increased risk of preterm birth.
TMD
TMD, also known as TMJ dysfunction, afflicts the joint that connects the lower jaw to the rest of the skull. It can be the result of a misaligned bite, oral injury, or other causes. This condition can cause many unpleasant symptoms, including headaches, migraines, neck pain, back pain, difficulty chewing, ringing in the ears, and more.
Dementia
Bacteria from oral infections, such as gum disease, may travel to the brain. There, they have the potential to heighten the risk of dementia and Alzheimer's. In fact, numerous scientific studies have found associations between these conditions.
Rheumatoid Arthritis
It is estimated that people with gum disease are four times as likely to suffer from rheumatoid arthritis. The connection may be due to the fact that gum disease increases the body's overall burden of inflammation.
How Can You Protect Yourself?
Without a doubt, there is a strong link between oral and overall health. To protect your head-to-toe wellness, you should establish a diligent oral hygiene routine. You should also avoid smoking, eat a balanced diet, and visit your family dentist twice a year for a cleaning and checkup. These simple measures can do much to keep your mouth and body in good shape!
Meet the Practice
Dr. Erick Anderson and the team at Anderson Family Dental are proud to offer general oral health services in our welcoming, modern office. If you are looking to improve or maintain your dental well-being, we are ready to serve you. Contact us at 719-593-0988.