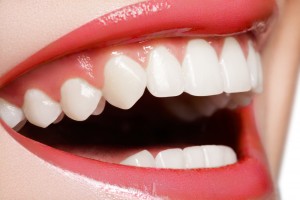 If you think your teeth aren't perfect, you're not alone. Many people, if given the opportunity, would change something about their smiles. Perhaps you'd like to change the color, shape or size of one or more of your teeth. Well, porcelain veneers may allow you to do just that. At Anderson Family Dental in Colorado Springs, CO, Dr. Erick T. Anderson and Dr. Richard L. Anderson have created 100s of happy smiles with porcelain veneers!
Are Porcelain Veneers the Right Choice for You?
The first thing the dentists at Anderson Family Dental will need to do is carefully examine your teeth, gums and overall oral health in order to determine whether or not you are a candidate for porcelain veneers. If the answer is yes, then together you will discuss the goal you have in mind for your smile. Whether that goal is repairing one broken tooth or giving yourself an entirely brand new smile, porcelain veneers are a viable option.
Porcelain veneers, also called dental veneers, are commonly used to treat a variety of cosmetic dental flaws, including:
Worn or discolored teeth, whether because of genetic predisposition or consuming richly colored foods and drinks
Chipped or cracked teeth, whether caused by the aging process or injury
Gaps between teeth that may widen with age
Uneven teeth that are the result of teeth grinding or normal wear and tear
Your Porcelain Veneers
Porcelain veneers are micro-thin, custom-made casings of tooth-colored dental porcelain that are fabricated in a dental lab. During your initial visit for veneers, the dentist will use a shade chart to accurately match the color of your existing teeth. Then, a thin layer of the teeth receiving veneers will be removed and an impression of those will be made. The lab uses that impression to accurately produce your veneers. You'll return to the office and your new porcelain veneers will be applied with special dental cement. With a little gentle care, your new smile will give you pleasure for years!
Schedule an Appointment Today
To discuss porcelain veneers, call Anderson Family Dental in Colorado Springs, CO. Drs. Erick and Richard Anderson will be happy to see you. Our office also serves Black Forest, Fort Carson, Stratmoor, Falcon and surrounding communities.