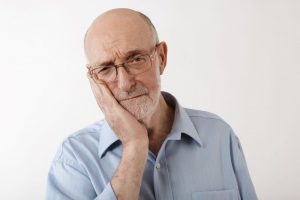 Dentures should fit snugly and comfortably on your gums. After you adapt to them, they should feel like a normal and natural extension of your body. But what if they do not fit well? You could end up facing a number of bothersome complications. What problems can be caused by ill-fitting dentures? This blog post explains a few.
Soreness, Swelling, and General Discomfort
Poorly fitting dentures can move around on your gums. Over time, this can cause significant irritation and soreness. Your gums may become swollen, and it could reach the point where you do not want to wear your prosthesis at all.
Difficulty Eating
Dentures are designed to be able to stand up to a wide variety of foods. However, if your dentures do not fit properly, they may easily slip around in your mouth or become destabilized when you are eating even the softest foods.
Some patients with poorly fitting dentures have become so frustrated with their inability to eat certain foods that they make unhealthful adjustments to their diet. They sometimes end up being malnourished.
TMJ Disorder
If your dentures do not fit well, your lower jaw may have to work extra hard to keep it in place and help you maintain a functional bite. This can place a significant amount of stress on your temporomandibular joint (TMJ), the joint that connects your lower jaw with the rest of your skull. You might even end up with TMJ disorder, a painful condition that can cause persistent facial soreness, headaches, back aches, and many other symptoms.
Problems Speaking
Clear speech is the product of complex interactions between the teeth and tongue. If your dentures do not fit properly, they could interfere with your ability to articulate certain sounds. In fact, if your dentures continually slip out of place, they might have an impact on your ability to hold even a simple conversation.
Infection
Often, people with ill-fitting dentures have an uneven bite. This can cause saliva to pool close to the corners of your mouth. As a result, you may end up with a bacterial infection known as angular cheilitis. This condition is characterized by red, irritated patches of skin near the mouth.
Make Sure Your Denture Fits Well
If you have noticed that your dentures do not fit as well as they used to, you should visit your dentist at your earliest convenience. If possible, they may reline (adjust) your prosthesis so it has a more secure, comfortable fit. However, if your denture is damaged, or your mouth's shape has changed significantly, you might need an entirely new set of teeth.
Do not let ill-fitting dentures cause you pain and embarrassment! Your dentist is ready to help your smile get back to functioning its best.
Meet the Practice
Dr. Erick Anderson is a highly skilled dentist with decades of experience. He offers top-quality dentures and denture maintenance services in our modern, welcoming office. If you have been having problems with your artificial teeth, he and our team would be glad to help you find a solution. Contact our practice at 719-593-0988.