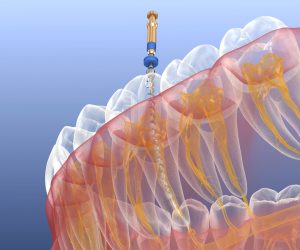 If you have had a root canal in Colorado Springs in the past, hopefully the procedure was easier than you anticipated. Still, if your dentist informs you that the same tooth requires retreatment with another root canal, you may hesitate to agree. Your dentist should be more than willing to explain their recommendation to you. In the meantime, let's discuss some reasons why root canal retreatment (also called endodontic retreatment) might be necessary and what you can expect during your appointment.
Reasons for Endodontic Retreatment
A few common reasons for root canal retreatment include:
Your tooth has complicated anatomy. It is extremely difficult (if not impossible) for a dentist to see all the little nooks and crannies inside your tooth while they are performing root canal treatment. If your tooth has unexpected anatomical features, the original treatment may not be as thorough as originally hoped for. (This doesn't happen too often — the vast majority of root canals are successful the first time around.)
The tooth has suffered further damage. A crown should be placed soon after root canal therapy. If there are delays in crown placement, bacteria may sneak into the tooth and cause a new infection. Similarly, if a crown does not completely seal a tooth, bacteria may slip beneath it and cause problems.
Endodontic retreatment may be required soon after the original procedure. However, the need for it might arise months or even years later.
What to Expect During Root Canal Retreatment
Depending on the complexity of your case, your general dentist might perform your root canal retreatment, or they might refer you to a trustworthy local specialist. Either way, you can have confidence in the ability of the team who will be working on your mouth.
In some ways, your second root canal will be just like your first. The infected areas inside your tooth will be cleaned out before your tooth is filled in and later topped with a crown. However, root canal retreatment may take longer than your first procedure because it requires your crown to be removed and any filling material to be taken out of your tooth before your tooth's interior can be accessed.
You should be comfortable throughout your appointment. Sedation and anesthesia can ensure that you feel little to nothing while your dental team is working. After you go home, you can expect some soreness and other symptoms. However, it should not be long before your mouth is back to functioning and feeling its best.
Don't be alarmed if you must undergo root canal retreatment — your dentist will do everything in their power to make sure your procedure is a resounding success.
Meet the Dentist
Dr. Erick T. Anderson is a native of Colorado Springs. He has decades of experience in his profession, and he is proud to offer a broad range of services, including root canal therapy. To learn more about him and how he may be able to help you enjoy a healthy smile, contact our office at 719-593-0988.