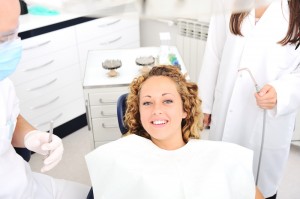 Though the term "root canal" often conjures up a variety of negative thoughts and emotions in many, the truth is that this elemental restorative dentistry service is among the most effective at actually relieving pain, not causing it. At Anderson Family Dental in Colorado Springs, CO, Dr. Erick T. Anderson and Richard L. Anderson offer a variety of general and restorative dental treatments to help keep our patients' smiles healthy and bright, including root canal therapy when necessary.
Do I Need a Root Canal?
During root canal therapy, the infected portion of the tooth will be removed and all bacteria will be eliminated from the resultant cavity. The area will be filled with a biocompatible material and sealed off with a protective, durable, and aesthetically pleasing crown. We'll always make sure that you are completely comfortable throughout the duration of your procedure, taking your individual needs into consideration every step of the way.
Though a thorough examination and consultation with our doctors are necessary in order to definitively determine the need for a root canal treatment, there are some things that you can keep an eye out for at home between visits to our practice. Some examples of symptoms that may indicate the need for treatment include:
A tooth that persistently hurts, even after brushing and flossing carefully
Change in tooth color, usually to a pale gray shade
Pain and sensitivity to cold and heat
Inflammation in the gum tissue surrounding a particular tooth
Pain when chewing, or when the tooth in question is touched
Family Dentistry You Can Trust
At Anderson Family Dental, we believe that each and every patient deserves to enjoy optimal oral health as well as the beautiful smiles that come with it. If you suspect that you or someone in your family is in need of root canal treatment, please contact our office today to schedule your appointment with our caring team and experienced doctors. We look forward to treating you to the best, most compassionate dental care in Colorado Springs, CO and the surrounding areas. We also serve patients from throughout communities in Fort Carson, Stratmoor, Black Forest, Falcon, and beyond.