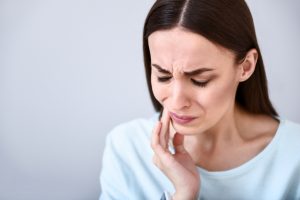 When school starts back up, the last thing you or your family needs to deal with is tooth sensitivity. Twinging tooth pain can be a true distraction from studies and a busy schedule.
Stay focused this year by staying clear from tooth pain and sensitivity with this helpful information. Your dentist can help you discover symptoms of sensitivity and treat it.
What is tooth sensitivity?
Tooth sensitivity occurs when the protective layer of your teeth (tooth enamel) start to thin. The insides of your teeth including the tooth root and nerves are supposed to be protected by a thick layer of enamel and healthy gums. Overtime, we all naturally wear down enamel. However, there are a few ways that patients can preserve their tooth enamel.
How can I preserve the protective layer of my teeth?
One of the best ways to protect your tooth enamel is to avoid acidic foods and drinks like sodas, high-sugar carbs, and sticky candy.
Another great way to preserve tooth enamel is to treat your teeth gently and with care. Do this by brushing your teeth softly, working to massage rather than scrub your teeth. This is more effective and saves enamel.
Finally, another way to preserve the strength of your teeth is to avoid bleaching them too often.
How can Ephrata Family Dentistry help my sensitive teeth?
Good dental care is critical to keeping your smile strong and healthy! You can expect your dentist to help you in these ways:
If your teeth are sensitive from minor tooth decay, our dentists will probably offer to clean and fill the affected area with a tooth colored filling.
If your prior filling was lost or came loose, our dentists can replace it.
Use toothpaste that is specifically for sensitive teeth (like Sensodyne) and enriched with fluoride.
Don't chew tobacco because it will quickly destroy enamel and catalyzes gum recession.
Wear a custom mouthguard when you sleep to avoid teeth grinding and causing unnecessary wear and tear on your teeth.
How can my family dentist help me preserve my tooth enamel?
A key part to saving the enamel on your teeth is by following up with your dentist every six months for routine cleanings and dental exams. During your appointment, your dentist will have the opportunity to check on your oral health while removing harmful dental bacteria and debris. You can expect these services when you choose to get help with your dentist:
An in-depth evaluation of your oral health.
An assessment of your current risk of tooth decay/gum disease.
An inspection of your bite.
A comprehensive look internally and externally with digital x-rays.
A thorough discussion of the appointment and any recommendations for restorative treatments.
Meet Your Dentists
Our dental professionals are passionate about dentistry and helping each of their patients recover from tooth sensitivity. Here at Anderson Family Dental, we keep the most advanced dental technology to create positive dental experiences in the most comfortable and convenient way possible. Call (719) 581-8115 to schedule your next appointment with either Dr. Richard Anderson or Dr. Erick Anderson.