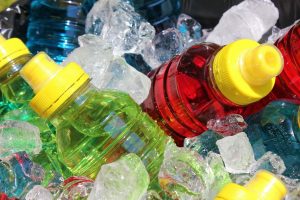 As the weather heats up, you may have lots of fun activities in line for the summer. Many of those activities, whether they involve hiking, sports, or projects around the house, may involve physical exertion, so it is important that you stay hydrated. But how should you stay hydrated? Should you stock up on sports drinks and energy drinks, or should you stick with plain old water? A dentist is here to provide guidance on this important topic.
How Sports and Energy Drinks Affect Teeth
Many sports and energy drinks contain high levels of sugar. As sugar interacts with the bacteria in your mouth, acid is produced. The longer the acid lingers on your teeth, the greater your risk of suffering from cavities.
However, sugar is not the only problem with sports and energy drinks. Even the sugar-free varieties often contain citric acid, a popular flavor enhancer. Unfortunately, citric acid is quite good at eroding tooth enamel. Researchers soaked teeth in both sports and energy drinks for a period of time each day for five days. Both types of drinks caused the loss of a significant amount of enamel. The energy drinks caused more damage than the sports drinks, but neither type of beverage is a safe choice for as far as dental health is concerned.
Staying Hydrated without Damaging Your Teeth
Consuming large amounts of sports and energy drinks is not wise, but if you do choose to drink them, do so in moderation. Opt for sugar-free varieties, and do not slowly sip on your drink throughout the day. Finishing it relatively quickly will help to limit the length of time that your teeth are exposed to sugar and acid.
Whenever possible, opt for water instead of a sports or energy drink. If you are concerned about replenishing electrolytes that are lost through sweat, you can do so by sticking to a healthy diet. For example, bananas are a great source of the electrolyte potassium. Milk has the electrolyte calcium (and it is excellent for your teeth!). Consuming a handful of salted nuts can help to replenish your body's sodium levels. You could also enjoy some coconut water, which has been deemed "nature's sports drink" because of its electrolyte content. It has some sugar in it, but it is a preferable alternative to regular sports and energy drinks.
Protect your smile during the hot weather season! Staying away from sports and energy drinks, eating healthy foods, and drinking plenty of water will ensure that you stay nourished and hydrated all summer long without endangering your teeth.
About the Author
Dr. Erick Anderson is a general dentist in Colorado Springs with decades of experience. His practice is founded on respect for patients, a commitment to using state-of-the-art technology, and a dedication to excellence during each and every procedure. If you have questions about how to care for your teeth this summer, or you have any concerns about your oral health, Dr. Anderson and our team are ready to help. Contact our office at 719-593-0988.