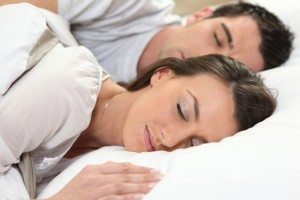 While many people know that sleep apnea causes loud, disruptive snoring, the underlying causes and potential complications of this disorder are not always so obvious. Treating this common condition with comprehensive sleep apnea therapy at Anderson Family Dental in Colorado Springs, CO can help you avoid serious health complications and improve overall quality of life.
How Can Sleep Apnea Put Me at Risk?
When a patient has obstructive sleep apnea, the soft tissues that comprise the top of the mouth and the throat collapse during sleep, constricting air flow. The noise we know as snoring is caused by vibrations as the patient struggles to breathe while unconscious. The deepest levels of sleep are interrupted, often leaving the individual affected by the disorder feeling exhausted during the day. Other side effects include inability to focus on daily tasks, general irritability, and chronic morning headaches.
Aside from these daily nuisances, sleep apnea can lead to a variety of lesser known health problems. Some of the complications associated with untreated or poorly managed sleep apnea include the following:
Irregular heartbeat
Cardiovascular stress
Coronary artery disease
Higher risk of stroke and heart attack
Impotence
Respiratory failure
Complications with certain medications
Frequent nighttime urination
Fortunately, sleep apnea can be controlled with help from your local Colorado Springs, CO dentists. A custom-fitted oral appliance, worn only while you sleep, helps keep your jaw in its proper position and facilitates air flow. Most patients report an improvement after just one night of using their nightguard.
Better Sleep, Healthier Life
If you or someone in your family suffers from sleep apnea and you're interested in learning how a customized snoreguard can help, contact our office in Colorado Springs, CO today. We also happily welcome families from nearby communities in Falcon, Black Forest, Fort Carson, Stratmoor, and the surrounding areas. Our skilled, compassionate team looks forward to helping you get the restful sleep you deserve with sleep apnea therapy.