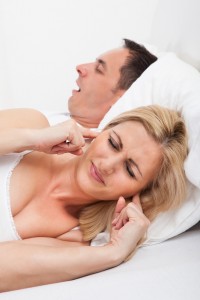 Is your sleep often interrupted due to snoring or odd breathing sounds from your partner? Perhaps you suffer from excessive snoring yourself in addition to feelings of exhaustion during the day. At Anderson Family Dental in Colorado Springs, CO, Dr. Erick T. Anderson and Dr. Richard L. Anderson offer a variety of general and family dental solutions to help our patients achieve and maintain optimal health and wellness. One of these services is the treatment of obstructive sleep apnea, or OSA.
Do I Have Sleep Apnea?
Though clinical testing is required in order to definitively diagnose a condition like sleep apnea, there are some warning signs that you can keep in mind and share with your doctor if certain symptoms arise. Common symptoms associated with obstructive sleep apnea include the following:
Dry mouth or sore throat in the morning
Worsened depression or irritability
Excessive daytime fatigue
Feeling unreasonably drowsy when driving or at work
Loud snoring, often interrupted by gasps or choking sounds
Waking suddenly from a deep sleep with a feeling of breathlessness
Night sweats
Difficulty concentrating on even simple tasks
Headaches throughout the day, particularly in the morning
A test that measures your breathing, blood oxygen level, and other factors while you sleep can aid in diagnosing sleep apnea. If it turns out that OSA is the reason for your troubles, our doctors can help. With the use of a customized oral appliance – often called a nightguard or a snore guard – you may be able to alleviate the symptoms of sleep apnea in a way that is easy and comfortable. You simply wear the appliance while you sleep, and it effectively keeps your tongue and jaw in their proper positions throughout the night. This keeps the airway open and unobstructed, and typically helps prevent snoring as well.
Schedule Your Visit Today
If you suffer from sleep apnea or excessive snoring, now is the time to take a step toward a healthier life and more restful sleep. Contact our office in Colorado Springs, CO today to schedule your consultation with Drs. Anderson and Anderson. We look forward to serving you! We also welcome patients from the nearby areas of Black Forest, Fort Carson, Falcon, Stratmoor, and beyond.