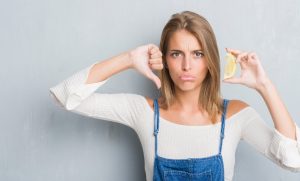 As a champion of oral health, your dentist tries to set a good example in the way they care for their own teeth and gums. They have good oral hygiene habits and take precautions to avoid unexpected problems. Would you like to follow your dentist's lead and do all you can to steer clear of a future dental emergency? Let's talk about a few items that your dentist would encourage you to never put in your mouth.
Lemons
Lemons are full of vitamin C, so what's the problem? Acidity. People who enjoy sucking on lemons tend to keep the fruit in their mouth for an extended period of time, and the lemon's highly acidic nature can wear away at tooth enamel, contributing to dental sensitivity and other problems.
Jewelry
Have you ever been tempted to get a lip or tongue piercing? While they might look trendy and cool, they have the potential to harm your oral health. A tongue piercing could easily chip or break a tooth. Plus, bacteria can easily accumulate around the jewelry and lead to a nasty infection.
Cigarettes
Cigarettes are bad for oral health in numerous ways. They contribute to dry mouth, which allows harmful bacteria to flourish in the oral cavity. Plus, they significantly raise the risk of gum disease. Not to mention, they can cause significant dental stains and chronic bad breath. If you smoke, your dentist or primary care practitioner may be able to provide you with practical advice on how to kick the habit.
Fingernails
Whether you're trying to cope with nerves or just get rid of an annoying hangnail, you should never bite your nails. Even though tooth enamel is the hardest substance in the human body, it is brittle, which means that even things that are softer than it — such as fingernails — can cause damage.
Bottlecaps
When you want to open a bottle of beer and can't find your bottle opener, it might be tempting to use your teeth to pry off the beer's cap. That is a bad idea because the cap could easily chip or break your teeth. Instead, you can try to use a key to remove the cap.
Ice
It can be satisfying to hear a crunch as you bite down on a piece of ice, but if you want your teeth to be healthy, you should avoid doing that. Ice is quite hard, and many dentists have seen patients with severely damaged teeth after years of munching on it.
The above items are just a few things you should never expose your teeth to. If you have questions about what else you can do to reduce your risk of future dental problems, your dentist would be happy to speak with you.
Meet the Dentist
Dr. Erick Anderson is a general and emergency dentist in Colorado Springs with decades of experience. If you have questions about what is involved in proper oral care, he would be happy to speak with you during your next checkup. To learn more about how our practice may be able to serve you, contact us at 719-593-0988.