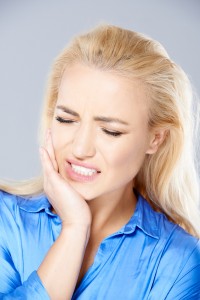 Temporomandibular joint disorder, or TMD, is a condition that affects the hinge joints that connect your jaw to your skull. The structures of the muscles, bone, ligaments, and nerves in this area are incredibly delicate and complex, making them susceptible to damage and discomfort. At Anderson Family Dental in Colorado Springs, CO, Dr. Erick T. Anderson and Dr. Richard L. Anderson have studied TMJ disorder and its treatment extensively, providing patients with the solutions they need to find lasting relief from their symptoms.
The Importance of Treating TMD
The TMJ allows the jaw to open, close, and move side to side for speaking, eating, yawning, and more. When a patient is affected by TMJ disorder, even these seemingly simple actions become difficult. Painful inflammation in the jaw and near the ear can place an inordinate amount of pressure on nerves, sending aching sensations throughout the head, neck, shoulders, and upper back. Other symptoms of TMD include:
Tenderness or pain in the muscles of the face
Ringing in the ears (tinnitus)
An odd popping or clicking noise when the jaw is opened or closed
Limited range of jaw movement
A feeling that the jaw is locked in place (open or closed)
General tired feeling in facial and neck muscles
A sudden sensation of discomfort or pain when chewing
TMD treatment at Anderson Family Dental will be personalized to suit your unique needs, and may include the use of a custom nightguard, orthodontic treatment, and stress management. Our team is here to ensure your complete oral health and overall wellness, and we aren't satisfied until you feel your absolute best.
Say Goodbye to Chronic TMJ Pain
If you suspect that you may be suffering from TMD and you're ready to experience life without daily discomfort, contact our office today to schedule your consultation with our experienced, caring doctors and staff. We can't wait to show you what a difference our customized TMD treatment can make in your life. Our conveniently located office in Colorado Springs, CO also serves patients from throughout the surrounding areas of Stratmoor, Falcon, Black Forest, Fort Carson, and more.