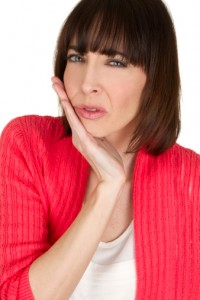 Are you familiar with the children's game Simon Sez? Let's imagine we're playing that game. Simon sez touch your nose. Simon sez touch your elbow. Simon sez touch your temporomandibular joint (TMJ). If you're like most people, you just lost our little game. But if you're familiar with the discomfort of TMJ disorder, or TMD, then you know exactly where your temporomandibular joints are. Place your forefingers just in front of your ears and open your mouth. That movement you feel under your fingers marks where those joints are. For some people, however, just opening and closing their mouth can be painful. Fortunately, it doesn't have to be that way. Dr. Anderson, the TMD dentist Colorado Springs trusts for effective treatment can alleviate the pain and discomfort of TMD.

Comprised of muscles, bone and ligaments, the temporomandibular joint is actually one of the most complex in the human body. The joint itself consists of a ball and socket with a disc in between to cushion the movement of the jaw. If something prevents this joint from working properly, then TMJ may develop.
Researchers aren't 100 percent certain about what causes TMJ—or even if the causes lead to TMJ or if they are the result of the disorder. Nevertheless, some causes are thought to be:
Misalignment of the teeth
Traumatic injury to the teeth or jaw
Bruxism, or teeth grinding and clenching
Poor posture
Pronounced stress or anxiety
Arthritis in the jaw joint
Chewing gum
The pain associated with TMD can spread beyond the jaw joint and be felt around the ears, eyes, forehead, neck and other parts of your face. Other than pain, the signs and symptoms of TMJ include:
A clicking or popping sound when you open or close your mouth
A feeling that your jaw is locked or stiff
Facial swelling near the temporomandibular joints
Sensitive teeth, but no dental problems
An earache, but no signs of infection
Changes to your bite
Difficulty chewing or opening and closing your mouth to speak or yawn
Waking up with a headache or having regular tension headaches during the day
Treating TMD in Colorado Springs
Always wanting to further his education in order to better service patients, Colorado Springs TMD dentist Dr. Anderson has studied therapeutic procedures for TMJ at the Pankey Institute, an advanced dental education center that is recognized for outstanding coursework in TMJ therapy. Sometimes, treatment requires a combination of therapies. Dr. Anderson will carefully examine your teeth and bite in order to create the appropriate treatment plan for you.
Call Our Office Today
You don't have to put up with the pain of TMJ. Contact Anderson Family Dental to schedule an appointment with Dr. Anderson. We welcome patients from Colorado Springs, CO, Falcon, Fort Carson, Black Forest, Stratmoor, and the neighboring areas.