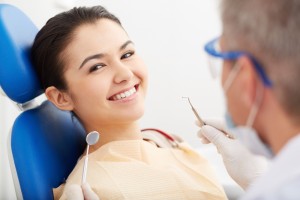 Dental fillings are the most commonly performed restorative dentistry services, providing stability to a tooth's structure when it has been compromised by decay. At Anderson Family Dental in Colorado Springs, CO, Dr. Erick T. Anderson and Dr. Richard L. Anderson offer a wide variety of restorative dentistry procedures, including tooth-colored fillings for a smile that is as beautiful as it is healthy.
Why Choose Tooth-Colored Fillings?
Historically, dental caries – more commonly known simply as cavities – have been treated using a filling material comprised of a metal amalgam. This amalgam contained mercury, silver, and other metals to form a solid barrier against bacterial invasion and further infection. Today, however, the majority of dentists and patients agree that composite resin is the preferred material for dental fillings.
Composite resin fillings, also called tooth-colored fillings, are customized to blend in flawlessly with the rest of your smile. Rather than hide your smile from the world because you are self-conscious about your dark metal fillings, you can feel free to show off your pearly whites anytime and anywhere you like. In addition to their aesthetic benefits, tooth-colored fillings offer functional advantages over amalgams as well. Unlike metal fillings, tooth-colored composites do not react to changes in temperature, so there's none of the sensitivity that patients often cite when drinking hot or cold liquids. Enjoy a smile that is always comfortable and always great-looking with tooth-colored fillings from Anderson Family Dental.
Schedule Your Appointment Today
Whether you are looking to replace your old amalgam fillings with more modern tooth-colored composites or you are in need of a new restoration for a current cavity, our team is here to help you. Contact our office in Colorado Springs, CO today and schedule your appointment with our experienced, knowledgeable doctors. We look forward to helping you achieve your most beautiful smile as well as optimal oral health for years to come. Our conveniently located dental practice happily welcomes patients from throughout Colorado Springs, as well as nearby communities in Stratmoor, Fort Carson, Black Forest, Falcon, and more.