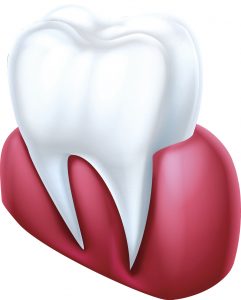 Most patients don't think about their teeth too much—until something goes wrong in their mouth.  Many don't know that your teeth help you on so many levels, from digesting your food by chewing effectively and even helping you speak properly.
Your dentist understands that you're more likely to take better care of your teeth and gums after you can appreciate everything they do for you. Although your teeth are individual pieces in your smile, they all work together to give you a great quality of life.
Incisors
Incisors are also known as your very front teeth. Besides showing off your smile, your front teeth help you bite into your food. Typically, incisors are one of the first types of teeth to burst through your gums and stay in your mouth the longest.
Care for Your Incisors Properly:
Brush and floss regularly.
Wear a mouthguard when participating in athletics (most sports-related dental injuries occur in the front teeth).
Visit your dentist semiannually to get your teeth professionally cleaned.
Canines
The next in line for the development in smile are your canine teeth. Most patients know these teeth as their "vampire teeth." These are the sharpest teeth in your smile and help us to tear our food apart.
Care for Your Canines Properly:
Brush and floss regularly—especially floss, because tough foods can get stuck between these teeth.
Visit your dentist semiannually for a checkup and professional cleaning.
Don't use your canine teeth to open packages!
Molars
The primary function of a molar is to aide your digestive system by being the first step in breaking down food by chewing and grinding substances down.
Care for Your Molars Properly:
Flossing can be difficult for adults in the back of your mouth and especially difficult for children. That's why your dentist recommends utilizing tools to help you clean them effectively.
Remove as much food and bacteria as possible by brushing regularly.
Visit your dentist for semiannual dental checkups and professional cleanings.
Ask your dentist about dental sealants to protect your back teeth from common cavities.
Third Molars
Third molars are also known as "wisdom teeth." These are the last teeth to develop. Your third molars are there to help with the digestive system as well with breaking down food.
As patients grow older, young adults may experience dental pain as their wisdom teeth burst through the gum line. In that case, your dentist can perform an easy, practically painless wisdom tooth extraction to help you maintain good oral health.
Care for Your Third Molars Properly:
Brush and floss, especially as they come in to avoid bacterial infections.
Visit and openly communicate with your dentist about your adult teeth growing in.
Meet Your Dentists
Dr. Richard L. Anderson and Dr. Erick T. Anderson want you to know how important it is to take care of every component of your smile even before dental problems arise. After all, each tooth plays a crucial role in keeping your whole body healthy. Schedule your next dental visit our Colorado Springs dentists by calling (719) 581-8115.