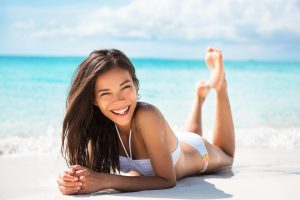 Do you have a beach getaway planned for this summer? Whether you plan to stay local and hang out by a sparkling lake or sneak away for a few days on the coast, you want your smile to be ready. After all, nothing complements a gorgeous swim outfit like a bright, healthy set of teeth. But what if your smile isn't the glowing masterpiece that you wish it was? Your cosmetic dentist can help. They might suggest that you invest in veneers in Colorado Springs. Let's discuss what veneers are and how they may be able to benefit you.
What Are Veneers?
Veneers are thin pieces of porcelain that are cemented onto the fronts of a patient's teeth. They can disguise a range of aesthetic imperfections, including cracks, chips, discoloration, small gaps, and more. They are custom-designed for each patient, so if you have a certain color or shape in mind for your teeth, your dentist can likely accommodate your wishes.
Veneers are a long-lasting treatment, with each set having the potential to endure for 15 years or longer. They can therefore help you smile confidently this summer, next summer, and well into the future.
The Veneers Process
Veneers take a few appointments to design and place, so if you schedule your consultation soon, you might be able to complete your treatment before your beach vacation.
After your dentist confirms that you are a good candidate for the procedure, they'll prepare your teeth for the veneers, take some impressions, and send design notes to the laboratory that will fabricate your veneers. You'll wear temporary veneers while your permanent ones are being created. Once they're ready, your dentist will verify that their fit, color, and shape are all perfect before attaching them to your teeth.
Benefits of Veneers
If you choose to get veneers to makeover your smile, you can expect to experience some significant benefits:
They are highly resistant to stains, so they are likely to retain their original color for many years.
They are versatile. If you don't want a full set of veneers, that's perfectly fine. You might need just one or two to significantly enhance your smile's appearance.
They can handle most foods. You should be able to enjoy all of your favorite foods when you have veneers, including beachy cocktails, barbecued meats, and other summertime favorites. (Moderation is key — just like natural teeth, veneers are not invincible.)
They are easy to care for. You'll need to use a non-abrasive toothpaste to clean your veneers. Other than that, you probably won't have to make any significant changes to your oral hygiene routine.
Veneers can be the perfect way to get your smile ready for the beach, the office, your high school reunion, or any other place where you want to impress. Your cosmetic dentist will be happy to discuss this treatment with you.
Meet the Dentist
Dr. Erick Anderson is a cosmetic and general dentist in Colorado Springs. He has decades of experience in his field, and he greatly enjoys both the art and science of enhancing patients' smiles. To learn more about him and the services he offers, contact our office at 719-593-0988.