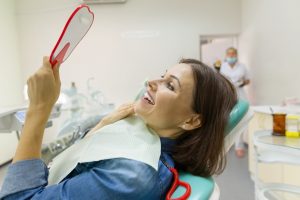 Countless individuals across the nation would like to improve the appearance of their teeth. Are you among them? Dental prosthetics can help. Veneers and crowns are both popular options that can dramatically and permanently change the way teeth look. But which options is better for you — veneers or crowns? Let's talk about what these treatments can accomplish and how you can decide between them.
What Are They?
Both veneers and crowns can be made out of dental-grade porcelain, which is almost identical to natural teeth. They are both designed to be attached to the teeth on a long-term basis. However, they come in different forms. A veneer is applied only to one surface of a tooth; it is meant to hide the tooth's aesthetic imperfections. A crown, on the other hand, covers the entire portion of a tooth that is above the gumline. Crowns are usually reserved for restorative purposes. However, some patients choose them with the singular goal of improving the way their teeth look.
Which Do You Need?
Your dentist is the best person to help you decide which treatment is right for you. They will examine your teeth, learn about your goals and expectations, and then let you know how you should move forward. Their recommendation will depend on a few factors, including:
Your oral health. If you have significant decay or other dental problems, crowns are the better way to protect vulnerable teeth. Veneers can repair teeth to an extent (for example, by reshaping a chipped tooth), but they are usually more suited for aesthetic issues, such as stains, small gaps between the teeth, and teeth that look unusually small.
Which teeth you are interested in transforming. Veneers and crowns can be placed on any teeth. However, veneers tend to do better on the front teeth than on the back ones. They may be more likely to break if they are placed on molars because molars are exposed to greater chewing forces. Crowns are sturdier and may be better for back teeth.
Cost Comparison
Veneers and crowns are comparably priced, but insurance companies view them very differently. It is rare for insurance to cover veneers because they are classed as a purely cosmetic procedure that has limited benefits for oral health. When crowns are necessary for oral health, they are usually considered a major restorative service, which means that insurance typically covers about half of their price, up to the amount of the insurance
Are you wondering if crowns or veneers are better for you? Both treatments can produce beautiful, natural-looking, and long-lasting results. Your dentist can help you determine which one is right for your unique circumstances.
Meet the Dentist
Dr. Erick Anderson is a general dentist in Colorado Springs with decades of experience. He offers a range of restorative and cosmetic treatments, including both veneers and crowns. If you would like to speak with him about your options for enhancing your smile's health and appearance, contact our practice at 719-593-0988.