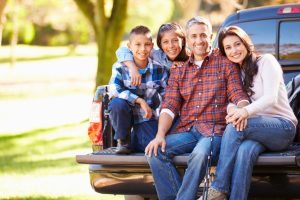 Some people (mistakenly) believe six month visits to the dentists are unnecessary. What they don't realize is that preventive care from your dentist in Colorado Springs drastically reduces your risk of developing cavities and gum disease. Don't skip out on this regular appointment — even if you don't think you need it. Preventive dental care is vital to solid dental health.
Need more convincing to visit the dentist twice a year? We have put together a list for you here. Without further delay, here are the top four reasons to visit the dentist every six months!
#1: Gum Disease Causes Tooth Loss, Heart Problems
One of the main goals of your twice-annual dental appointment is to remove the plaque and tartar that cause gum disease. The majority of adults over the age of 35 exhibit the symptoms of the condition also known as periodontitis. It's a scary number given the fact that gum disease leads to tooth loss, and has also been linked to serious heart conditions, diabetes, and certain cancers. Fortunately, gum disease is easy to prevent — and your regular cleaning and checkup is an important part of keeping the condition at bay.
#2: Enjoy That Clean Tooth Feeling
You know how great your mouth feels after you leave the dentist's office? That's clean, or what your teeth feel like without plaque and tartar buildup. Plaque is the sticky substance that builds up on your teeth throughout the day. When this biofilm is properly removed, it's harmless — but left on the teeth, plaque quickly transforms into the hard, yellow substance known as tartar. Even people with excellent dental hygiene habits are vulnerable to plaque and tartar buildup, but regular preventive care helps keep teeth and gums clean.
#3: Tooth Decay Won't Heal Itself
Once tooth decay gets the chance to develop, it won't go away on its own. Unfortunately, too many adults choose to visit the dentist only when they are already experiencing serious pain. By this time, conservative treatment is just not a possibility. When you come into the dentist's office every six months, we can catch problems while they are still small — and stop them in their tracks.
#4: Children Need Special Attention
Patients of all ages benefit from six month visits to the dentist. Children's teeth are most vulnerable to decay between the ages six and 14, and special considerations should be taken to help keep their tooth enamel healthy during this stage. Anderson Family Dental recommends dental sealants and fluoride treatments for most kids. Dental sealants are thin, plastic coverings that are painted onto the chewing surface of the molars. A painless treatment that's completed in a matter of minutes, dental sealants can help to prevent cavities for years after their application. Fluoride treatments are applied after the dental checkup and cleaning to strengthen dental enamel against cavities.
Schedule Your Appointment Today!
When was your last visit to Anderson Family Dental? Get in touch with us today to schedule an appointment with the best dentist in Colorado Springs! You deserve to enjoy all the benefits of preventive dental care.