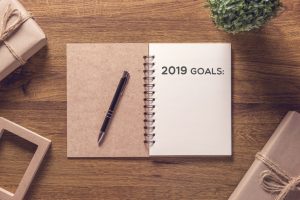 If you're like most people, you've probably set a few new year's resolutions. You might want to shed a few pounds, spend more time with your loved ones, or learn a new language. Those are all fantastic goals, but you shouldn't forget to think about your oral health when you're considering what you want to accomplish in 2019. Regularly visiting your dentist can have a great positive influence on your oral health, overall health, and confidence. Let's talk more about the benefits you can experience when you make professional dental care part of your regular routine.
Enjoy a Cleaner Mouth
You might be diligent about brushing and flossing your teeth, but there still could be one or two areas that you miss during your regular routine. A hygienist can remove all the plaque and tartar from your teeth and give you advice on how to take your homecare to the next level. You'll therefore enjoy fresher breath, fewer stains on your teeth, and a reduced risk of dental problems.
Catch Problems in Their Early Stages
Most dental problems begin well before you experience any symptoms. For example, the earliest stage of gum disease produces such subtle signs that you might miss them altogether. New tooth decay may not cause you any pain. A dentist's trained eye can catch such issues and help you correct them well before they cause serious problems like systemic health issues and tooth loss.
Get Your Money's Worth
Do you have dental insurance? You may pay your premium month after month, but if you don't attend regular preventive checkups, you're letting your benefits go to waste. Many policies allow you to attend routine checkups at a very low out of pocket cost, whereas they may provide less robust coverage for restorative care. It makes more financial sense to use your insurance to prevent oral health problems rather than as a safety net just in case you face a dental emergency.
Establish a Trusting Relationship with Your Dentist
If you're a little nervous about visiting your dentist, avoiding routine checkups won't do anything to help you conquer your anxiety. By attending regular appointments, you can get to know your dentist and develop a trusting relationship with them.
Treat Yourself to a New Look
A beautiful smile is an accessory that never goes out of style! When you maintain your oral health, you're much more likely to be a good candidate for cosmetic dental procedures, such as professional teeth whitening or porcelain veneers.
Don't be a stranger at your dentist's office in 2019! Routine appointments can do wonders for your oral health and keep your smile strong and beautiful throughout this year and well into the future.
About the Author
Dr. Erick T. Anderson is a skilled, experienced general dentist who is proud to serve families in Colorado Springs and the surrounding area. He provides a wide range of preventive, restorative, and cosmetic services. To learn more about how he can bolster your smile's health in 2019, contact our office at 719-593-0988.