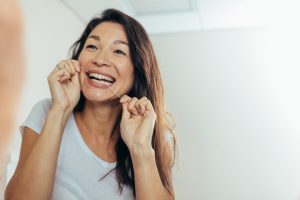 Many people find it tedious or difficult to floss their teeth. If that is true of you, you might have considered swapping out your old-fashioned string floss for a Waterpik or another type of water flosser. But is a Waterpik as effective as floss? Let's take a moment to compare the pros and cons of these two dental hygiene tools.
Waterpik: Pros and Cons
Many people enjoy using a water flosser because it is gentle, does not cause the gums to bleed, and can easily navigate around braces, bridges, and other types of dental appliances that might be in the mouth. They are also handy for people with arthritis or other mobility issues that make it difficult for them to effectively use regular floss.
However, Waterpiks do come with a few downsides, including their substantial cost and the fact that they can get a little messy. The biggest disadvantage, though, is that they do not clean all the plaque off of teeth. Using one is better than using nothing, but when it comes to thoroughness, old school floss is the winner.
Dental Floss: Pros and Cons
The biggest advantage of dental floss is, of course, that it can effectively clean the tight spaces between teeth, removing more plaque and debris than a water flosser. It is also quite inexpensive to buy and comes in a variety of thicknesses and types to meet the needs of a wide variety of people.
Unfortunately, dental floss also has some drawbacks. While it is extremely effective, it can only do its job if the person using it employs proper technique. It can also be difficult for people with certain health conditions to use, and it is challenging to floss while braces and other oral appliances are in place.
Which Is Right for You?
During your next checkup and cleaning, your dentist or dental hygienist can help you decide whether a water flosser or string floss is the best fit for your oral hygiene routine. They will probably say that string floss is sufficient if you do not have any difficulty using it. If you have questions about proper flossing technique, be sure to ask! They will be happy to provide personalized coaching.
Keep in mind as well that you don't have to choose between dental floss and a Waterpik. If you want to use both, that's perfectly fine. You might first use string floss, then go over your mouth with the Waterpik to remove any lingering bits of plaque and clean out any spaces that you cannot reach with regular floss.
Floss and Waterpiks are both excellent tools that can have a place in your oral hygiene routine! Your dental team can help you decide which products to use to maintain a clean and healthy smile.
Meet the Dentist
Dr. Erick Anderson is a family dentist with decades of experience. He is a strong advocate of preventive care and patient education. He and our team are always happy to answer questions about anything that relates to oral health and hygiene. To learn more about us and how we may be able to serve you, contact us at 719-593-0988.