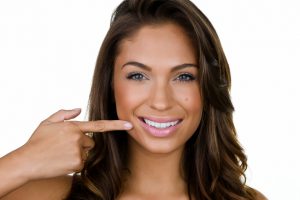 Are you tired of looking in the mirror and seeing a less than perfect smile? Porcelain veneers can help. Porcelain veneers can be used to hide and fix a number of cosmetic flaws that impact the beauty of your smile. With a simple and minimally invasive procedure, you'll instantly gain a more attractive smile that looks natural. Anderson Family Dental offers porcelain veneers in Colorado Springs to transform your smile. We will create customized dental veneers to give you the stunning smile you've always wanted to feel confident when looking in the mirror.

Porcelain Veneers in Colorado Springs
As a cosmetic dentist in Colorado Springs, we are able to instantly correct imperfections hurting the appearance of your smile to give you an amazing natural-looking smile. We often use veneers to hide chips and cracks, but veneers can also be used to hide extensive discoloration that dulls the appearance of your teeth. Veneers can also be used as an alternative to orthodontic treatments by fixing small gaps, crowding, and alignment issues. All-in-all, veneers give the teeth a shapelier appearance—perfect for those who want to lengthen the appearance of their teeth.
In order to enhance the beauty of your smile, we will evaluate your smile to create an individualized treatment plan. We will create customized veneers to seamless blend in with your natural teeth for the most aesthetically pleasing appearance.
We prefer to use porcelain when placing veneers because it allows us to remove as little of the tooth's structure as possible. Not to mention, porcelain provides the most natural look because light reflects off the surface of the veneers just as it reflects off the surface of your natural enamel. Plus, porcelain is thinner, allowing less of the tooth's enamel to be removed. While porcelain is thinner than other types of veneers, they remain durable and comfortable.
Dental Veneers in Colorado Springs
Once we've formulated a treatment plan, we can quickly and painlessly apply your veneers. First, we will clean and prepare your teeth. To allow the false front to be securely bonded to the front of the tooth, we may need to etch the surface of the tooth. This involves removing a very small amount of enamel to allow for a stronger bond. However, in some cases, there may be little to no prep needed at all to attached the veneers.
After we've bonded the veneers to your teeth, we will clean the teeth and make the final adjustments to ensure the proper bite, function, and appearance of your new smile. Then, you will simply care for your new veneers similarly to how you care for your natural teeth with proper oral hygiene. While the veneers aren't subject to decay, the exposed areas of your natural teeth still are. So, you'll need to come into our office for regular checkups and cleanings. At each appointment, we will check the function and appearance of the veneers to make repairs or adjustments as necessary. With the right care, you'll have an amazing new smile that can last an average of 10 years.