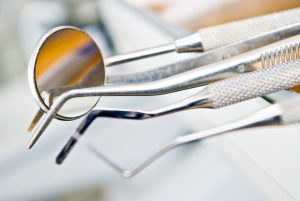 Some individuals find dental offices to be intimidating, especially when they walk into the exam room and see a bunch of unfamiliar tools laying out. What exactly do those tools do? Let's discuss some common instruments that your dentist uses. When you know what they are and what purpose they serve, you might just realize that they're nothing to be afraid of!
Mouth Mirror
The mouth mirror, which is a small mirror attached to a slim metal rod, serves two purposes. First, it allows your dentist to view parts of your mouth that would otherwise be very difficult to see. Second, it lets your dentist move your tongue or cheek to allow for easier access to portions of your mouth.
Dental Explorer
A dental explorer, otherwise called a sickle probe, might seem scary at first glance. However, it is an important tool. This long-handled instrument, which has a sharp-looking hook on the end, helps your dentist find signs of dental decay and gum disease, particularly between the teeth. It is also useful for scraping away small areas of plaque and tartar buildup.
Scaler
A scaler, which typically has a hook-like apparatus on both ends, is used for removing areas of significant plaque and tartar buildup. A dentist does not use a scaler on every patient; it is usually reserved for use on individuals who already have periodontal problems. It might be a bit uncomfortable when your dentist is using a scaler on your teeth, but remember that this tool can do much to protect your smile from decay.
Dental Drill
Don't let the word "drill" cause you to start avoiding the dentist. This instrument is an essential part of high-quality dentistry. One of its primary purposes is to remove decayed portions of the teeth, thus preparing them for a restoration, such as a filling, inlay, or onlay. Drills spin extraordinarily fast (over 250,000 rpm), so they have to shoot out water to prevent them from overheating and causing damage to your mouth. When a drill is used along with local anesthetic, it should not cause you any pain.
Suction Device
A suction device has a long tube that is attached to a vacuum. It removes saliva from your mouth in order to dry out your teeth, which is often an essential part of successful dental treatment. It may also be used to remove excess water from your mouth (such as the water that comes from a dental drill).
Dental instruments might look scary, but they are nothing to be afraid of when they are in the hands of a skilled professional.
About the Author
Dr. Erick Anderson is an experienced general dentist who serves families in the Colorado Springs area. He provides a broad range of services, and he is always happy to share is knowledge with his patients — feel free to ask him any questions you may have about the tools he uses during your appointments. To learn more about Dr. Anderson and our practice, contact our team today at 719-593-0988.