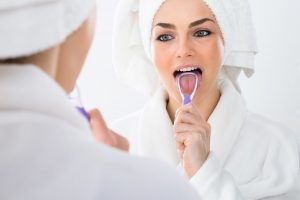 Discussions about oral hygiene often center around brushing and flossing the teeth. Both of those habits are certainly critical if you want to maintain a healthy, attractive smile. However, many people neglect their tongue when they are cleaning their mouth. In this blog post, an experienced general dentist discusses why keeping the tongue clean is so important. You'll also learn some tips on how you can do so.
Why Clean Your Tongue?
Your tongue is covered in tiny bumps called papillae. These little bumps provide more surface area for taste buds and assist you with the mechanics of eating. They also have miniscule grooves between them, which can easily collect bacteria, food particles, and even dead skin cells. Those substances then get trapped on the tongue by a thin layer of mucous.
Think that sounds gross? You're totally right! If you do not regularly clean your tongue, you may soon find that it becomes discolored. (A pink tongue with a whitish coating is normal, but an all-white tongue is often an indicator of insufficient oral hygiene.) You may also have bad breath. Bear in mind as well that sometimes, bacteria on the tongue can get transferred onto nearby teeth, thereby increasing your risk of tooth decay.
How to Clean Your Tongue
Fortunately, keeping a clean tongue is easy. After you finish brushing your teeth, but before you rinse your mouth, use your toothbrush and the toothpaste residue in your mouth to gently scrub your tongue from back to front. Then, clean the inside of your cheeks as well.
Another method for cleaning your tongue is with a tongue scraper, an inexpensive device that you can pick up at virtually any drug store. To use your scraper, stick your tongue out and place the tool at the back of your tongue. Then, applying even pressure, move the scraper toward the tongue's tip. Rinse the scraper and repeat the same steps along the sides of your tongue.
If scraping your tongue is uncomfortable or even causes pain, it may be because you are applying too much pressure. Try to be a little gentler. However, if cleaning your tongue is painful because you have a sore or a wound, it is okay to skip this part of your daily oral hygiene routine until you heal. You should also always feel free to contact your dentist about any concerns or questions you have.
Are you giving your tongue the attention it deserves? Cleaning it daily can help you to enjoy a fresh and healthy smile.
About the Author
Dr. Erick Anderson earned his dental degree in 1994, and he has been practicing in his hometown, Colorado Springs, since 2002. He is happy to provide general, restorative, and cosmetic dentistry for our community. He is also always pleased to give practical advice to help patients protect their oral health. If you would like to learn more about Dr. Anderson, or you have questions about anything related to dentistry, contact our team at 719-593-0988.