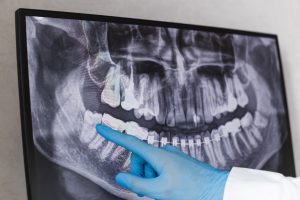 It is standard practice for dentists to order X-Rays for each patient. However, some people hesitate to consent to dental X-Rays in Colorado Springs, whether because they want their appointment to go as quickly as possible, they are concerned about radiation, or for other reasons. But you can be sure that X-Rays are safe — and they play an important role in helping you enjoy a healthy smile. Let's talk about why they are so valuable.
Seeing Beyond the Obvious
Your dentist can tell a lot about your oral health by performing a basic visual exam with the aid of an intraoral camera or dental probe. However, they cannot get a truly comprehensive understanding of the state of your teeth without ordering an X-Ray. An X-Ray can reveal:
Spots of decay and cracked enamel between the teeth
Cysts, decay, and cracks beneath the gumline
Bone loss in the jaw
Decay beneath dental fillings
The development of permanent teeth beneath baby teeth
How Often Are X-Rays Necessary?
Most insurance policies cover one full set of X-Rays each year with zero out-of-pocket cost to the patient. However, you may need X-Rays more or less often than that. For example, children may need more frequent X-Rays because their mouth is still developing. Similarly, adults with a high risk of tooth decay may also need X-Rays at each checkup rather than just once a year.
Other individuals may need X-Rays every 2 – 3 years. This is usually the case for low-risk patients who do not have a history of severe tooth decay.
Of course, it is entirely up to you whether you consent to X-Rays or any other procedure at your dentist's office. However, you can be sure that if your dental team recommends them, following their advice is in your best interests.
Types of X-Rays
Most of the time, X-Rays are therapeutic in nature. In other words, they are part of a standard exam and are meant to help your dentist keep an eye on your oral health.
If you are complaining about dental pain or are showing other signs of an oral health problem, however, you may need a set of diagnostic X-Rays. Diagnostic X-rays serve a specific purpose, such as helping a dentist plan for root canal therapy or another complex procedure.
Often, if a dentist is seeking to analyze a specific problem, they may order a CBCT scan, a special type of X-Ray that uses a cone-shaped beam of radiation to capture a highly detailed, three-dimensional image of the mouth.
Dental X-Rays are a safe, important part of maintaining oral health! If you have any questions or concerns about them, feel free to ask your dental team. They will be pleased to speak with you.
Meet the Dentist
Dr. Erick Anderson is a family dentist in Colorado Springs. He takes a conservative approach to care and uses X-Rays and CBCT scans as part of his strategy to help patients enjoy sound oral health. If you would like to learn more about him and the technology in our office, contact us at 719-593-0988.