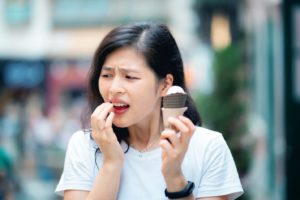 A steaming hot cup of coffee, your favorite autumn soup, and a tall glass of ice water may all be enjoyable treats — but if you have sensitive teeth, these everyday items may become sources of pain. It cold and hot temperatures cause your teeth to ache, the problem might be a minor issue that is easy to manage. However, it is also possible that you are on the fast track toward a dental emergency. Let's talk about what causes sensitive teeth and how your dentist may be able to help you find relief.
The Science Behind Dental Sensitivity
Teeth are composed of a few different layers. The enamel is the outermost layer, and its job is to protect the layers beneath it. It serves as a shield that stops hot and cold temperatures from irritating the dentin (the second layer of teeth). The dentin contains tubules that connect to the tooth's nerve. When the tubules come into contact with hot and cold substances, the nerve then sends pain signals to the brain.
Causes of Sensitive Teeth
There are several possible reasons why your tooth enamel might be unable to provide adequate protection for the layers beneath it:
Due to genetics, your tooth enamel is naturally thin.
Teeth grinding and clenching has worn down the enamel or created tiny cracks in it.
Overconsumption of sugary or acidic foods has damaged the enamel and caused it to become thin.
A tooth is chipped or broken.
Gum recession, possibly due to periodontal disease or other factors, has exposed the tooth roots. Tooth roots have no enamel to protect them.
A tooth has a cavity.
Dental decay has penetrated into a tooth's inner layers and caused an infection, which is irritating the tooth's nerve.
How to Find Relief
A visit to your dentist should be the first step in finding relief from dental sensitivity. They will examine your mouth and diagnose the reason for your pain. They, they'll recommend an appropriate treatment. In some cases, something as simple as using a sensitivity-reducing toothpaste may be all you have to do. In other cases, a crown, filling, or periodontal therapy may be necessary.
Keep in mind that if you are experiencing severe sensitivity that is focused in just one tooth, you should make an appointment to see your emergency dentist immediately. You may have an infection that, without treatment, could continue to cause significant pain and perhaps even lead to systemic illness. You may need root canal therapy.
You should be able to enjoy all of your favorite cold and hot foods without pain! If you are experiencing dental sensitivity, make an appointment to see your dentist as soon as you can.
About the Author
Dr. Erick Anderson is a general dentist who has been practicing for more than 25 years. He offers a broad range of treatments, including preventive and emergency care. If you would like to speak to him about how you can end your dental sensitivity, contact our office at 719-593-0988.