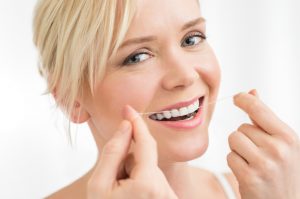 Going to the dentist takes time out of your busy schedule! It doesn't matter too much if you skip one visit per year, right? After all, you're brushing your teeth every day – so no big deal. Actually it is a big deal, and here's why. Your oral health affects your entire well being because we know that periodontal disease is linked directly with other health concerns such as cardiovascular disease, diabetes, and stroke. This is known as the oral systemic connection, and your dentist in Colorado Springs discusses how oral hygiene affects overall health.
What is Periodontal Disease?
Periodontal (gum) disease can essentially be described as the infection of the bone and tissues that surround your teeth. This is caused by excessive plaque and tartar build up that causes your gum tissue to separate from your teeth and allows harmful bacteria below your gum line. If left untreated, gum disease will eventually lead to tooth and bone loss.
What is the Oral Systemic Connection?
When bacteria descend below your gum line, it can also enter your bloodstream and travel to other areas of your body. This is how it affects your overall health and well being and contributes to other health issues. It's also been determined that patients with diabetes or heart disease are also more likely to develop gum disease.
What Causes Periodontal Disease?
There are many factors that can contribute to gum disease such as:
Poor oral hygiene
Genetics
Certain medications
Poor nutrition
Smoking and tobacco use
Misaligned or crooked teeth
Prevention is your best and first line of defense against gum disease, and this is why we recommend that our patients come in every six months or twice per year at Anderson Family Dental. Our hygienist will remove the excessive plaque build up that contributes to gum disease, while Dr. Erick Anderson or Dr. Richard Anderson will screen you for oral health issues.
Gingivitis is the early stage of gum disease and if we can detect it in this stage you have the best chance of treating it with the least invasive treatment. In this stage you might notice that your gums are red and swollen, or they bleed when you brush your teeth. Chronic bad breath is also a telltale sign of gum disease. This is the best time to contact us and schedule a thorough professional cleaning.
Your health is too important to risk! Contact us today to schedule your next appointment.